Grades 1-12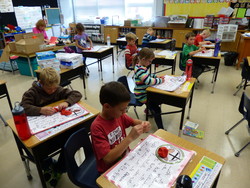 Brant Christian School infuses the Alberta Education curriculum with a Christian worldview, and further supplements the faith component with dedicated time in student schedules for Christian Education courses. These courses offer age-appropriate instruction that includes study of the Old and New Testament. At the high school level, Christian Education includes an examination of ethics, philosophy and other world views. Students will find their faith reflected in all courses across the grade levels.
Evidence of the school's focus on literacy and learning is found in Brant's record of academic achievement. A benchmark assessment of each individual student's reading ability is conducted in early fall and again in early spring, until a student is reading independently at a Grade 7 level. In Fall 2015, nearly 95 per cent of Brant Christian School students were reading at grade level or higher. Our literacy program is about more than reading. It's giving our students the critical thinking and analytical skills they need to be fully engaged citizens wherever life takes them. Further evidence of our academic achievement is found in our provincial achievement test results in grades 6 and 9.
Every one of our Grade 6 students achieved the acceptable standard (passed) their Provincial Achievement Tests in English, Math and Science in 2014-2015. Half of all students achieved the provincial standard of excellence in Grade 6 Science and Math. An incredible 62 per cent of all Grade 6 students achieved the standard of excellence in the Grade 6 English achievement test.
Our parents know our school well, and we're pleased to report that 100 per cent of parents responding to an Alberta Education survey in 2015 said they are satisfied with the overall quality of the education we provide. Overall, 98 percent of teachers, parents and students in that survey were satisfied with the quality of education.
Class sizes in Brant Christian School are small, averaging just 18 to 20 students per class. The class sizes help teachers tailor their instruction to the individual student's strengths and needs.