Field Trips and Travel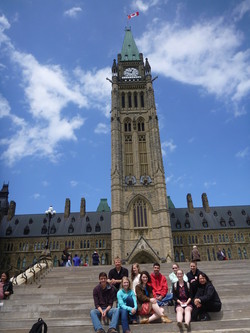 Starting in Grade 5, Brant Christian School students have the opportunity each year to participate in two or three big field trips, designed to promote exploration of provincial history, enrich appreciation and understanding of nature and our environment or supplement the physical education program.
For students in Grades 9 through 12, there is one major trip annually to give students a broad range of experiences throughout high school. One trip is to Canada's capital city, Ottawa, and offers a behind-the-scenes look at Parliament and the workings of the federal public service. Another is a mission trip to Mexico, giving students an opportunity to serve others in need. A third trip gives students the opportunity to enjoy a week-long outdoor education adventure. Our high school students are on the move and learning as they go.
June 2016 Waterton Trip - Grade 5/6 Class
This free, three-day, overnight camp sponsored by the Garfield Weston Foundation allows grade 5/6 students to investigate ecological issues and directly participate with park staff to protect the habitat of endangered species within this spectacular World Heritage Site. From forest and prairie hikes, predator-prey games, doing dishes, singing fireside songs, listening to First Nations stories, pulling invasive weeds and chasing each other during free time, it is an excellent chance to learn, bond as a class and experience God's BEAUTIFUL creation!