School Emergency
Brant Christian buses not running Thursday, Jan. 16.
Due to the continuing cold weather, Brant Christian buses will not be running today, Thursday, January 16. The school is open and teachers are present for any students who can drive to school.
Support Our Mexico Mission Team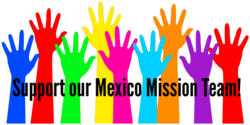 30+ high school students are preparing to head Tijuana, Mexico from January 29-February 5, 2020. While there, they plan to build two houses for needy families. In order to accomplish this goal they must raise $20 000. If anyone would like to donate to the building of these houses, please contact the school at 403-684-3752 or make a donation online (please specify your gift) at https://www.brantchristianschool.ca/fund-raisers.
Our students are also willing to perform tasks or jobs in return for a donation. Need some fall clean-up done? Need a babysitter for the evening? Contact the school office at 403-684-3752 to "hire" a student. Thanks for your financial support!