Support Our Mexico Mission Team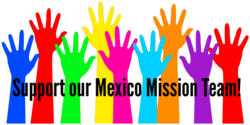 30+ high school students are preparing to head Tijuana, Mexico from January 29-February 5, 2020. While there, they plan to build two houses for needy families. In order to accomplish this goal they must raise $20 000. If anyone would like to donate to the building of these houses, please contact the school at 403-684-3752 or make a donation online (please specify your gift) at https://www.brantchristianschool.ca/fund-raisers.
Our students are also willing to perform tasks or jobs in return for a donation. Need some fall clean-up done? Need a babysitter for the evening? Contact the school office at 403-684-3752 to "hire" a student. Thanks for your financial support!